EL TEMA DE LA SEMANA INCANTATION - DYING DIVINITY.
Gothic Metal Noruego (Theatre of Tragedy,Tristania,The Sins of Thy Beloved)
Miér Ene 12, 2011 4:16 pm por Dr.Prozac
Cuando hablamos de metal y de Noruega inmediatamente pensamos en el black metal,sin embargo hay otro subgénero del metal con una escena bastante influyente en este país,me refiero al gothic metal.
A mediados de los 90 en Noruega nacieron tres grupos que se encuentran entre los más importantes del género (y entre mis favoritos),Theatre of tragedy,Tristania y The sins of thy beloved,a …
Comentarios: 2
Lacuna Coil
Miér Oct 20, 2010 3:01 pm por Dr.Prozac
Abro este post para hablar del que es,o tal ver debería decir era (más adelante explicaré por qué),uno de mis grupos favoritos,los italianos Lacuna Coil.
Lacuna Coil empezó su carrera en 1994 haciendo un gothic metal en el que la influencia del doom está muchísimo menos presente que en otros …
Comentarios: 3
Theatre of Tragedy-Aegis
Sáb Oct 16, 2010 10:10 pm por Dr.Prozac
Este foro lleva poco tiempo y todavía no esta muy lleno en ninguna de sus secciones,aún así se me hace insoportable ver que la sección donde el gothic metal,uno de mis subgéneros favoritos del metal,halla su sitio este vacía,es por eso que me he decicido a estrenarla con este post,que prometo que …
Comentarios: 1

DRENGSKAPUR (Alemania)
Iberian-Tour Spain & Portugal Abril 2014:
04/04: Madrid w/ The Art of Blasphemy, Hordak – Club: Excalibur Metal
05/04: Vigo w/ Lethal Dose of Hate – Club: Frenopátiko
11/04: Porto w/ Beastanger, Sonneillon Black Metal, Espectro – Club: Spot Music Club
12/04: Benavente/PT w/ Frost Legion, Bruma Obscura, 11th Dimension – Club: Side B Bar
17/04: Lugo w/ Balmog, Galiryon – Club: Clavicémbalo
18/04: Pontevedra w/ Balmog – Club: Liceo Mutante
19/04: Laudio w/ Balmog, Sentimen Beltza – Club: Orbeko Etxea
www.facebook.com/Drengskapur.de
www.Drengskapur.de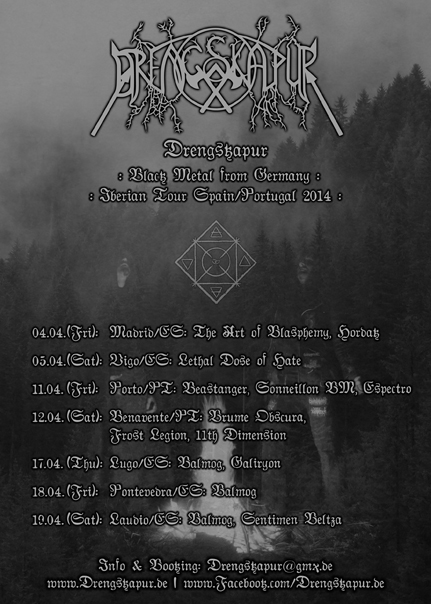 BlakkDesecration

Usuario cotilla





Mensajes

: 1


Fecha de inscripción

: 12/03/2014




---
Permisos de este foro:
No puedes
responder a temas en este foro.